We've been Twitter-friends for a few hours. I use to make short blogs about people I Twitter about. Graham Tappenden is from Germany and exited about his new bioethanol car. I need to talk with him about other things as well. Herrn Tappenden's blog is in English.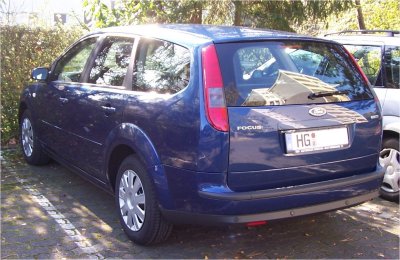 About
Name:

Graham Tappenden

Location:

Germany
The Monday Podcast
: "Driving a bio-ethanol car October 22nd, 2007
Today the
Monday Podcast
talks about a new type of fuel - bio-ethanol.
Graham has been driving a bio-ethanol car for the last week and comments on how the car is running and how new fuels help the environment.
Listen to the podcast to find out more:

(Press the "play" button to listen to the podcast)
I was taking notes about the podcast. Quite interesting. Is Graham speaking with his wife? Who is interviewing?
The engine is slightly more powerful. Where do you fill your tank? A a petrol station. It's a normal petrol pump. There is not so many petrol stations fo bioethanol.

Graham Tappenden has a key to the pump to get the petrol. There are 70-80 petrol stations in Germany.

You've two tanks in this new car. The other one you have if you can't get bioethanol and the other one for traditional petrol (diesel).
The mix is 85 % bioethanol and 15 % normal petrol. From the outside you don't see a big difference. There is a little badge in the back saying it's a flexicar.

There is no tax-benefits for the car but bioethanol is supported.
I tried to cruise-control. I tried the acceleration. When it gets cold you've to have a mixture to get the car started more easily.

You can heat up the ethanol slightly. In Scandinavia people are used to heat up their cars to get the cars starting properly.

Please, listen to the enthusiastic Graham Tappenden. I guess he has been thinking a lot about the use of bioethanol in his car.
Let me tell a little more about Graham Tappenden. What made him move to Germany? Need to digg about that. I've lived abroad in France and it's always interesting to learn about the motivation for the move.
All Things German
14 years ago I came to Germany as a work placement student. Eventually I came back to live here permanently and have now been here for 12 years.
With this homepage I would like to help those who are thinking of moving to Germany to live or to study - in particular students looking for work placements.
Click on the buttons on the left to read about my experience and giving hints and tips on how to find placements here.
If you have any questions, you can ask them in the forum, where I will try to answer as many as possible. The forum is structured like the main site and you will need to register to post your entry in most of the areas..
I hope this site helps you and you find some useful information here!
Graham Tappenden